Effective Hair Loss Treatment for Men and Women – Hair Transplant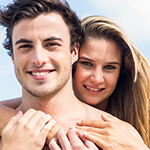 Hair loss in men occurs due to various reasons, the hair follicles that are sensitive to the DHT or dihydrotestosterone becomes weaker, finer then stop growing. Hair loss in women begins after menopause but if it happens before this therefore, women's hair follicles also become prone to DHT. Compared to men, fully bald spots at the crown are rare in women. The process of hair thinning in women is marked by thinning throughout the scalp.
Some other causes of hair loss in men and women are:
Genetics
Hormonal imbalance
Scalp infections such as ringworm
Skin disorders
Medications used for heart problems, cancer, etc
Hairstyles and treatment
Diet and Nutrition
Trauma or stress
Pregnancy
Others
Today, for treating hair loss and to meet expectation of patients', different types of surgical hair loss treatments have come into existence such as FUT and FUE hair treatment. These therapies are meant to revive follicles and stimulate hair growth.
All about FUE Hair Transplant for Men :
Over the last few decades, hair treatment surgery has evolved. Today, FUE or Follicular Unit Extraction is a popular hair treatment surgery for treating hair loss. The technique involved in this procedure is that it removes follicular units or individual hair from the donor area and reimplanting them into the balding recipient areas. This procedure is minimally invasive, but involves the surgeons to possess higher skills to perform the treatment successfully. This technique is very successful in providing natural-looking hairline that eliminates donor linear scarring. Here are some of the eligible and ineligible candidates for FUE hair treatment:
Eligible Candidates:
Men who are suffering from male pattern baldness,
Patchy hair loss
Suffering from baldness from some cosmetic procedure
Ineligible Candidates:
Men who are suffering from complete baldness
Suffering from severe illness such as heart problem, etc
FUE Hair Transplant for women: Important things to know :
An alternative method of obtaining donor hair, Follicular Unit Extraction or FUE is a non-invasive hair treatment procedure. In this technique, a strip of hair-bearing skin is removed from donor area and then directly treatmentinto the recipient area. This process creates a linear scarring however, the patient gets less donor hair for treatment. The scarring in FUE is smaller and is less expensive for the patient. Similar to men, women are also eligible and ineligible for FUE hair treatmentare as follows:
Eligible Candidates:
Women who have suffered hair loss due to non-hormonal alopecia such as traction alopecia
Suffering from hair loss due to cosmetic surgery
Who have distinct pattern baldness similar to male pattern baldness
Ineligible Candidates:
Women who are suffering from overall hair thinning
Women who are pregnant
Women who are suffering from severe illness such as uncontrollable diabetes, etc
Hair Loss and FUT Hair Transplant for Men :
FUT or Follicular Unit Treatmentation is a hair treatment procedure that treatment hair from the permanent zone to the balding areas of the scalp. By using naturally occurring groups of 1, 2, 3, or 4 hairs known as follicular units, the doctor removes a strip of tissue from the donor area and is placed on the recipient areas. Men who are suffering from male pattern baldness, who have lost their hair due to cosmetic procedure or due to some trauma can opt for this therapy. However, men who are completely bald or are balding for many years due to which the pattern has stabilized should not opt for this procedure. Moreover, you should have realistic expectations and that the hair loss may continue after the surgery.
Why Opting for FUT Hair Transplant for Women is a Good Option?
Similar to men, women also suffer from hair loss. But they don't get complete baldness like men instead overall hair thinning is common in women. FUT is a process that helps in removing a strip of hair follicles from the donor area and placing it on the recipient area. Some of the good candidates for FUT hair treatment are women who are suffering from hair loss due to traction alopecia, cosmetic surgery and due to trauma such as scarring from an accident, burn victim, etc. Moreover, women who are suffering from alopecia marginalis can also opt for this procedure. But if you have little donor hair or have too much bald area then you should not opt for this therapy.
Conclusion :
Hair loss can occur to anyone and it is crucial to understand the root cause of the hair loss. Therefore, to fight with the hair loss you should consult an expert to decide what steps is suitable for you to tackle the issue. There are many specialized clinics that offer professional surgeons who provide best solutions to your hair loss issues. To know more about your candidacy they will perform certain tests and decide on what will be beneficial for you.