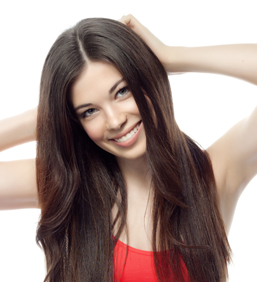 In most cases, men experience hair thinning and hair loss much more frequently and sooner in life than women do. While men tend to cope well with this problem, women find it quite demoralizing. There are various reasons why your hair is thinning, such as health problems, vitamin deficiencies, and the most common ones – ageing and genetics. Here are the most common reasons for female hair loss, and some effective strategies to combat it.
During pregnancy
As pregnancy causes physical stress due to hormone changes, it is very likely that it will cause hair thinning. This is perfectly normal, so you shouldn't worry about that. After your body recovers, your hair will certainly grow back. If you want to help your hair recover, you can consult with your pharmacist who will know what vitamins your hair needs.
Birth-control pills
If you are switching or not using birth control pills properly, you might experience hair loss. The cause aren't birth control pills themselves, but the hormonal changes that can occur in these situations. Also, if you have hair loss in your family's medical history, then you are at risk of developing the condition as well. Don't decide on your own whether the mediation suits you or not – consult with a doctor. Hair loss can be caused when you are stopping using birth control pills, however, it is only temporary and there is no need to worry.
Menopause
Aging is the main reason why women lose their hair, and it usually begins during menopause. There is no cure for this, but you can use medications which will strengthen your hair by providing it with needed vitamins. The best solution to this problem is a hair transplantation, which will in harmless way help you bring back the youthful look.
Weight loss
Drastic weight loss is a shock to your organism, as it is a huge physical change. After a sudden weight loss, your body might experience trauma, which will cause hair thinning and hair loss. In some cases, women don't care if their diet is healthy, so their meals exclude the necessary vitamins and minerals. If you want to lose some weight, visit a nutritionist in order to avoid unwanted health problems.
Hair loss and hair thinning every woman experiences, and you shouldn't be ashamed of it. Keep your hair healthy and strong by consuming vitamins and minerals. With the right care your hair will recover and bring back its shiny look. On the other hand, if the reason is ageing then definitely consider undergoing a hair transplantation, as it is the best way to restore your look.
Tags: beauty, Female Hair Loss, female hair loss treatments, fight hair loss, Hair Fall, Hair Loss, hair loss reasons, hair loss treatments, Hair Transplant, women hair loss, women hair loss reasons, women hair loss treatments